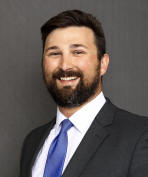 Kelly Arends is in his first year as an Athletic Trainer and Assistant Professor at the University of West Alabama. Kelly teaches various classes in the athletic training program and serves as the lead athletic trainer for the UWA Football team.
Before obtaining his undergraduate education, Kelly joined the Missouri Army National Guard as a combat engineer for six years. While in the National Guard, he obtained his Emergency Medical Technician-Basic certification, and in 2012 obtained his Paramedic License and Certification. Kelly received his B.S. in Athletic Training from Central Methodist University in 2015. While obtaining his undergraduate degree, he worked as a Paramedic at Samaritan Hospital in Macon, MO. After graduating with his B.S., he started working at Midwest Transplant Network and Saving Sight, preparing tissues and organs for donation. Kelly returned to his alma mater as a Graduate Assistant Athletic Trainer, working primarily with the Men's Basketball team while completing his M.Ed. in Athletic Administration. Following graduation with his M.Ed., Kelly moved to West Palm Beach, FL, to work at Keiser University as an Assistant Athletic Trainer with coverage responsibilities for the Seahawk Football and Baseball teams. Kelly returned to Missouri in 2019 after accepting the Director of Sports Medicine and Performance position at Peak Sport and Spine, primarily working at Westminster College in Fulton, MO. In the Director of Sports Medicine and Performance role, Kelly oversaw the strength and conditioning, insurance coordination, sports coverage, and rehabilitation of student-athletes for the college while teaching multiple classes in the Exercise Science Department. Since 2017, Kelly has been a preceptor for undergraduate and graduate athletic training students from multiple Athletic Training Education Programs. Kelly is currently ABD at the University of the Cumberlands and is working toward completing a Doctorate of Educational Leadership with a Concentration in Health Sciences in the spring of 2023.
He resides in Livingston with his wife Santana, four sons, two dogs, and two cats.