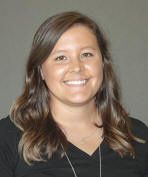 Codie Washburn begin her third year as an Athletic Trainer at the University of West Alabama. Codie is the coordinator of the athletic training outreach program for the secondary schools within the UWA service area. The programís goals are to improve the evaluation, treatment, management, rehabilitation, and referral of injuries and illnesses by working with administrators, coaches and local health care providers to increase the level and availability of athletic training services within the schools.
Codie completed her bachelorís degree from The University of West Alabama in December, 2012. Following graduation, Codie took an industrial athletic training position with PT Solutions in Montgomery, AL. She worked full time at the PT Solutionsí physical therapy clinic located at Hyundai Motor Manufacturing Alabama, while working part time with Montgomery Catholic Preparatory Schoolís Athletic program. Codie continued her education her first two years at UWA and earned the MAT in Physical Education from UWA in December 2016. Codie has previous experience working with Varsity Football, Baseball, and Women's Basketball along with a variety of sports of the High School Level.
Codie is excited to be continuing with The University of West Alabamaís Athletic Training Outreach Program. Codie currently resides in Livingston with her husband, William Washburn, and their two dogs, Corbin and Gus.