ATHLETIC TRAINING STUDENTS
" IN ACTION "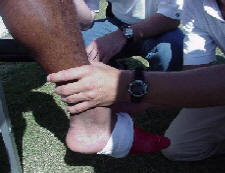 Junior SAT, Brad Davis, evaluates an injury to one of the UWA football players on the sidelines.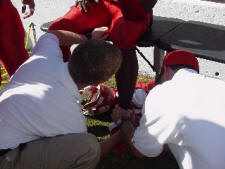 Sophomore SAT, Jeremy Collins, assists ASMI Fellow, Russell Ellis, MD, with the management of an acute ankle mortise disruption and fibula fracture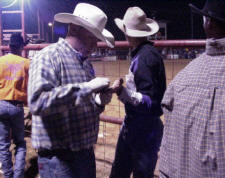 Junior Rodeo SAT, Bart Holmes, assists UWA Tiger Wrangler with finger laceration.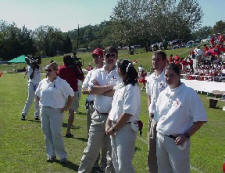 R.T. Floyd, Director of Athletic Training, discusses the previous injury's management to senior SAT, Erica Wilburn, while Sophomore SAT, Ginny Garrett, & Junior SAT, Brad Davis, monitor the field for injury situations.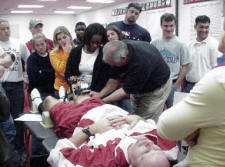 Director of Athletic Training Services at HealthSouth Medical Center, Mayfield Armstrong ATC demonstrates the application of the KT-2000 to Junior SAT, Jamece Presley, as other members of the UWA Sports Medicine Club observe and await their turn.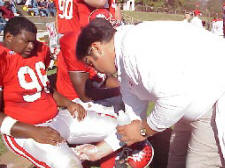 Senior SAT, John Hess, is in the act of controlling external bleeding on an injured UWA football player.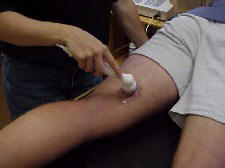 Prospective freshman athletic training students must demonstrate proficiency in the application of ultrasound as part of their psychomotor skill development prior to enrollment in the Athletic Training Program.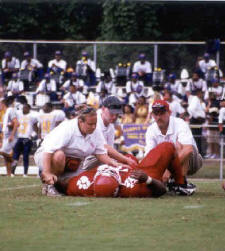 Field injury evaluation and management is typically a senior student athletic trainer responsibility as demonstrated by Shane Clay (center), as he evaluates the athlete's left knee under the supervision of the assistant and head athletic trainers, respectively.