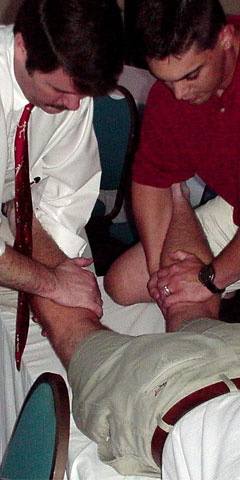 ATHLETIC TRAINING AT THE UNIVERSITY OF WEST ALABAMA
Download a printable Word Document of this information
ATHLETIC TRAINING PROGRAM
We offer a comprehensive major in Athletic Training leading to a Bachelor of Science degree. The Athletic Training Comprehensive major is a new major effective after the beginning of fall semester of 2022 and DOES NOT lead directly to eligibility for certification by the Board of Certification or state licensure. It is however, designed to provide an extensive background and experience in athletic training to better prepare students for eligibility, admission and success in graduate programs accredited by the CAATE (such as the UWA Master of Athletic Training) that do lead to eligibility for certification by the Board of Certification and subsequent licensure as an athletic trainer.
The practical experiences required for this field are vital to your success and therefore we strongly recommend that you begin this aspect of your career as soon as possible. With this in mind, we are offering our athletic training student camp from Wednesday, August 2 through the reporting day for the football team (August 4) and through August 15th when the fall semester begins. Housing check-in begins at 1:30 P.M. and ends at 2:00 P.M. Wednesday, August 2. We will officially begin at 4:00 P.M. on this date in the James P. Homer Field House, Room 216. From August 2 through August 4, in addition to the work preparation necessary for the year, we will provide numerous educational sessions. These sessions are designed primarily to provide our first-year athletic training students with some of the knowledge and skills that they need for their responsibilities in our varsity athletic training program. We will cover prevention, evaluation, treatment, rehabilitation and taping for the more common injuries & illnesses occurring throughout the body.

Our football team reports for pre-participation physical examinations on the afternoon of August 4th. Practice will begin with the conditioning test after equipment has been issued and then progress into daily practices. Our athletic training camp and educational sessions will continue until classes begin on August 16. We will conduct these sessions during the times that the football team is not practicing. This is an optimal time for our first-year athletic training students to gain valuable insight into the athletic training profession and greatly develop their skills due to the high numbers of players, practices and associated injuries.

Any and all athletic training majors and health science-athletic training majors are strongly encouraged to work with us during the camp and pre-season football practices beginning August 2 through the beginning of school on August 15th. If you have reserved campus housing for the fall semester, you will have the option to stay on campus during the pre-season camp. Pre-season housing will be provided by the Housing Office at no additional charge to you. The Housing Office will email all students that have applied for housing on July 13 with specific instructions to begin signing up on July 15 for an August 2 check-in appointment. Therefore, it is critical that you submit your AT Camp form by July 11 if you desire University Housing for the AT Camp and the fall semester. If you are not going to live on campus this fall, you will be responsible for your own housing during the pre-season camp.

Upon completion of housing check-in, we will officially begin at 4:00 P.M., Wednesday, August 2 in the James P. Homer Field House, Room 216.

As you may have read, UWA Athletics has an exclusive contract with Adidas. As a result, our athletic training staff and students are encouraged to wear Adidas gear during all athletic events and practices. Athletic gear displaying other brand names will not be allowed, however gear that does not display a competing brand name will be allowed. Our colors are red and white and must be the primary colors on any athletic gear. An absolute minimal amount of black may be allowed as an accent color only. Beyond this, khaki pants are allowed. We do not, at any time, wear gear displaying other college or university names or logos.

Due to the number of people involved and our limited finances, we can only provide meals to certain returning athletic training students. All others attending the camp and pre-season practices will have to pay for their meals. Our cafeteria will provide three meals a day for approximately $30.00 per day or you may obtain your meals at other restaurants and foods stores if you desire.
Sumter County Health Services Directory
Dr. R. T. Floyd, Director
UWA Station 14
Livingston, AL 35470
205.652.3714
205.652.3799 (fax)
rtf@uwa.edu