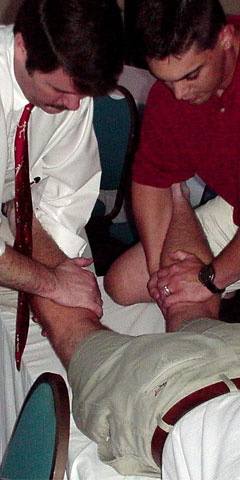 ATHLETIC TRAINING AT THE UNIVERSITY OF WEST ALABAMA
Download a printable Word Document of this information
ATTENTION:
Due to COVID-19, the dates for AT Camp have changed for all AT students, both returining and new. You now need to secure a hosuing check-in date for August 8, 10 or 11 directly with University Housing and report to Homer Field House by 4:00 P.M., Tuesday, August 11, 2020 to begin AT Camp. You also need to address your COVID Testing as specified in the email you should have recived via your UWA email.
The remaining information below is still relevant, except the dates have changed as detailed above.
ATHLETIC TRAINING EDUCATION PROGRAM
We offer a comprehensive major in Athletic Training leading to a Bachelor of Science degree. Specific admission requirements for the Athletic Training Program are designed to insure potential success in the program. Some of these requirements may be reached prior to attending UWA but opportunities are available to complete any outstanding requirements after enrollment.
The UWA Athletic Training Program is accredited by the Commission on Accreditation of Athletic Training Education (CAATE) through the 2028-2029 academic year and involves course work and clinical experiences covering all of the competencies and clinical proficiencies in Athletic Training. Successful completion of the UWA Athletic Training Program leads to eligibility to sit for the athletic training certification examination, which is administered by the Board of Certification (BOC).
The UWA Athletic Training Program, through its pre-professional component and later the professional component for those accepted into the program, provides several opportunities for valuable clinical experience. Only those students accepted into the professional component of the program become Athletic Training Students. During the first year at UWA, students in the pre-professional component gain valuable clinical experience in the practicum courses which include time in the athletic training room and assisting the Athletic Training Students in their duties and responsibilities. Athletic Training Students gain experience through providing athletic training services to the UWA intercollegiate athletic program with clinical assignments to the University's varsity athletic teams.
ATHLETIC TRAINING STUDENT CAMP
We feel that the practical experience required for this field is vital to your success and therefore strongly recommend that you begin this aspect of your career as soon as possible. With this in mind, we are beginning our athletic training student camp for all returning professional component students on Saturday, August 1 and for all freshmen & transfer pre-professional students on August 9. Both camps will conclude on August 16 when the fall semester begins. Check-in times for both will begin at 1:30 P.M. Due to our COVID-19 Prevention Protocol, each student will be required to set up an individual Check-In appointment with the Housing Office on August 1 and August 9, respectively. The Housing Office will email students with room reservations, specific instructions for signing up for a Check-In appointment by July 20. Upon completion of check-in we will officially begin at 4:00 P.M. on both dates in the James P. Homer Field House, Room 216. In addition to the work preparation necessary for the year, we will provide numerous educational sessions. These sessions are designed primarily to provide our first year athletic training students with some of the knowledge and skills that they need to have for their responsibilities in our varsity athletic training program. We will cover prevention, evaluation, treatment, rehabilitation, and taping for the more common injuries & illnesses occurring throughout the body. Professional Rescuer Certification in American Red Cross CPR & First Aid and AED usage, which is a requirement of all athletic training students, will also be provided for both new and returning students at a cost of approximately $27.00. This will be the only time that we provide this. Students not attending this certification will have to arrange their certification (required for all athletic training clinical experiences) through other providers at their own expense.
Our football team reports for pre-participation physical examinations on the afternoon of August 5th. Practice will begin with the conditioning test after equipment has been issued and then progress into daily practices. Our athletic training camp and educational sessions will continue until classes begin on August 17. We will conduct these sessions during the times that the football team is not practicing. This is an optimal time for our first year athletic training students to gain valuable insight into the athletic training profession and greatly develop their skills due to the high numbers of players, practices, and associated injuries.
Any and all athletic training majors are strongly encouraged to work with us during the camp and pre-season football practices beginning AAugust 2nd through the beginning of school on August 17th. If you have reserved campus housing for the fall semester, you will have the option to stay on campus during the pre-season camp. Pre-season housing will be provided by the Housing Office at no additional charge to you. The check-in period for pre-season housing will be held on Saturday, August 1 from 1:30 and beyond by appointment for students accepted into the professional program and Sunday, August 9 from 1:30 and beyond by appointment for freshmen & transfer pre-professional students. An official Housing Check-In will be held in the Admissions Tour Center, within Brock Hall. On-campus housing during pre-season is only available for students living on campus this fall. If you are not going to live on campus this fall, you will be responsible for your own housing during the pre-season camp.
As you may have read, UWA Athletics has an exclusive contract with Adidas. As a result, our athletic training staff and students are encouraged to wear Adidas gear during all athletic events and practices. Athletic gear displaying other brand names will not be allowed, however gear that does not display a competing brand name will be allowed. Our colors are red and white and must be the primary colors on any athletic gear. An absolute minimal amount of black may be allowed as an accent color only. Beyond this khaki pants are allowed. We do not, at any time, wear gear displaying other college or university names or logos.
Due to the number of people involved and our limited finances we can only provide meals to certain returning athletic training students. All others attending the camp and pre-season practices will have to pay for their meals. Our cafeteria will provide three meals a day for approximately $25.00 per day or you may obtain your meals at other restaurants and foods stores if you desire.
Physical Education and Athletic Training
Sumter County Health Services Directory
Dr. R. T. Floyd, Director
UWA Station 14
Livingston, AL 35470
205.652.3714
205.652.3799 (fax)
rtf@uwa.edu